ASMR GAMES :- People enjoy video games for all different types of reasons, and sometimes games can be a great way to relax and stimulate your brain. The rise of "casual" games over the past few years has confirmed that, with titles like "Animal Crossing: New Horizon" and even the indie hit "Stardew Valley" garnering massive attention. Many people enjoy ASMR for the same reasons.
According to Vox, ASMR stands for "autonomic sensory meridian response," which essentially refers to the "tingly feeling" that goes through your body when you hear, read, or feel something. Many people find this feeling satisfying, and it was a trendy Twitch meta at one point, as content creators streamed things like rolling paper and whispering into their mics.
However, video games can be a great way to get that "tingly feeling". It's not just something that can be found in casual games, either — some of the biggest titles of the last decade provided a surprising amount of satisfaction via ASMR. Here are some great options to try if you enjoy both ASMR and video games.
When it comes to calming vibes, relaxing sounds, and a general ASMR-esque atmosphere, "Coffee Talk" is one of the best games you can play. The two main things you do in the game are right in the title: make coffee and talk to patrons.
The game describes itself on its Steam page as a game about "listening to people's problems and helping them by serving hot drinks from ingredients you have in stock". Between the atmosphere of the game and the relaxing sounds that come with making coffee — which you can actually customize for each patron — several different YouTubers have done ASMR Let's Plays of the game. One website, Sprudge, even called it "the ASMR of coffee video games".
"Coffee Talk" actually explains itself and ASMR video games perfectly well: "An experience to make you think, feel, and relax both your body and your soul.
Dark Souls
Surprisingly, the "Dark Souls" franchise has been cited by many people online as one of the amazing ASMR games. The series—which is known for being difficult—contains a lot of repetitive noises that many people find satisfying, such as horse hooves and "clan" clangs. Some are satisfied with the voice acting alone, which one Reddit user attributed to the actors' "quiet speech" and "accents".
It's not just the three "Dark Souls" games that can give you ASMR vibes. It also includes other FromSoftware titles such as "Demon Souls," "Bloodborne," and the massively successful 2022 hit "Elden Ring." While the games aren't technically part of the same series, they're incredibly similar in gameplay and there's even a character that ties them all together.
If you're gearing up to play a FromSoftware title, keep in mind that they're tough games that really test your persistence and patience. They're not the same kind of relaxing ASMR experience you might get with other games, but they're great if you're the kind of person who enjoys a little more thrill while relaxing.
Hellblade: Senua's Sacrifice
Users recommended "Hellblade: Senua's Sacrifice" on Steam as a game to play for ASMR reasons, even though it makes the player a little "uncomfortable". The game is noted for having one of the best depictions of mental illness in a video game, telling the story of Senua, a warrior who undergoes several trials that are meant to represent psychosis. The player plays as Senua and experiences all these hurdles along with him.
In Other Waters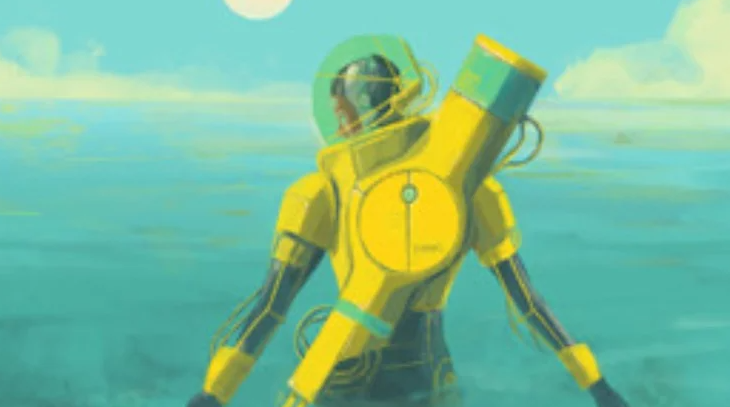 If you enjoy exploration games and you're looking for some ASMR, check out "In Other Waters." The game is about Ellery, a biologist who discovers an alien planet underwater and decides to explore it (via steam.) Not only is there interesting wildlife and flares, but an alien ocean. I also have a history to explore. While this game is nowhere near as difficult as the "Dark Souls" series, there is an element of danger in keeping Ellery safe while exploring.
According to Nintendo Life, a press release for the game actually called "In Other Waters" the "ASMR of video games." Steam reviews for the game explained that it had a near-perfect soundtrack, clean user interface, and drawing power that created a "quiet" and memorable game. Presumably, these things are what the developers had in mind when it was described as an ASMR experience.
If you want to pick up "Into Other Waters," it's available on PC and Nintendo Switch.
Outcast
Many people on the internet point to open world games as the best ASMR options because of the variety of sounds and freedoms the games allow. "Outcast" is another title that fits that description, but it's special because it claims to be the game that spawned the "open-world, action-adventure genre" (via Steam). Basically, players are able to explore alien worlds to save Earth.
A user on the /ASMR subreddit explained that "Outcast" is a "trigger fest" due to the game's sound design. They have a lot of different environments and sounds that are satisfying, and the game's score and voice acting are also top-notch, as the user further explained.
While "Outcast" was initially released in 1999, the game has been completely remade called "Outcast – Second Contact". A sequel to the game is also in the works, "Outcast 2 – A New Beginning", but there is no word on when it will be released.
Part of those trials, as one Reddit user pointed out, comes through sounds and sounds that trigger ASMR in many players. Another player said it gave them "scalp tingles," a pretty concrete description of the calming feelings ASMR can bring.
The game has changed the lives of players with its representation of mental struggles, and its ASMR portion barely scratches the surface of what the game means to many. It's available on every major console, including the Nintendo Switch.